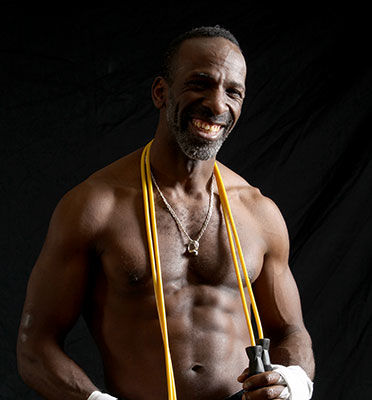 Herby Whyne
Founder and Head Coach
Herby Whyne is an athlete, head coach as well as founder and owner of Hard Knox Gym.  He is a former professional Canadian Kickboxing Champion and was once 6th overall in the world.  As if that is not enough, he also has his black belt in Tae Kwon Do. Herby Whyne has accumulated more than 30 years of kickboxing and boxing as an athlete and coach. Herby is passionate and dedicated to helping people be the absolute best version of themselves.
No matter what your goals, Herby will be there to make sure you achieve them. As a private trainer, Herby incorporates boxing, kickboxing, speed, coordination and how to explode with power in his sessions in order to help you surpass your limits and  become a better athlete. You will have the opportunity to learn to skip, hit the speed-ball, punching bags as well as focus pads. In the ring, Herby teaches you boxing techniques without contact being necessary. Along with being owner of the gym, Herby also teaches boxing, kickboxing, boot camp, bodyfit and crazy skipping. As a trainer, he strives to help and encourage each member of his gym to reach their goals and to push themselves beyond their capabilities.
Positive vibes.One Love.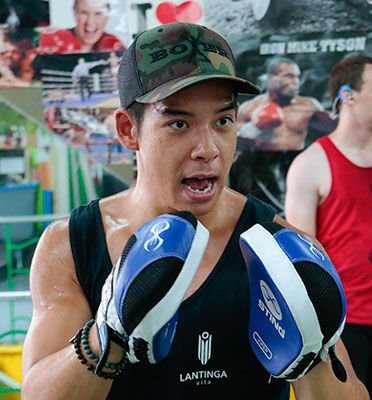 Christian Hip
Assistant Head Coach and Personal Trainer
Chris has been boxing now for 9 years. He has been a full time trainer and coach at Hard Knox for 4 years. He has an appreciation and understanding of the art of boxing and will make you love this combat sport almost as much as he does. As a personal trainer, Chris will make you work hard and almost wish you never showed up to train, but oddly enough you'll leave with a smile on your face. Chris will make sure you kick some butt, burn some calories and learn to box as well.
Chris teaches the following classes:
He is also available for private or small group training sessions.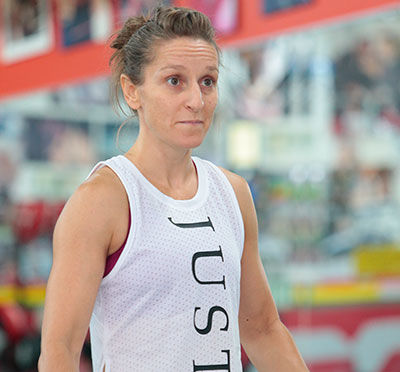 Mélissa Archambault
Ex-championne des gants d'argent et entraîneur de kickboxing
Mélissa is passionate about boxing, kickboxing and fitness. Over the years, she has turned her passion for training into becoming a coach, and is enjoying every moment of it. As a trainer, she wants to bring out the very best in you.  She will help you work towards your goals, with a personalized exercise program that will help you grow and excel in your art, whether you are a beginner or advanced.
Mélissa is also available for private or small group training sessions.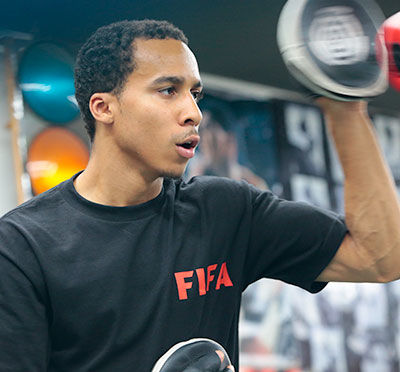 Ibrakhim Sylla
Boxing Coach and Personal Trainer
Ibrakhim was born to box. He has been boxing now for over 10 years and competed at a high level for 5 years before he decided to focus on training and helping others. He has a thorough knowledge of boxing and is able to help his clients understand as well. Not to mention, he is fast in the ring and watching him spar and fight with others is like watching a sculpture being molded, a true work of art. Ibrakhim is always striving to be better, constantly sparring and putting himself in his clients shoes so that he can better help them. He has experience training boxers of all ages. No matter what your age or experience, Ibrakhim is there to make you better. All you need is to show up and be ready to work hard.
Ibrakhim is also available for private or small group training.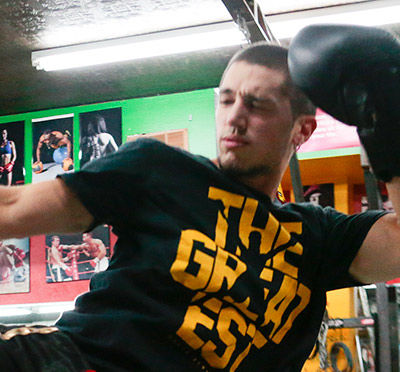 Christophe Alfonzo
Muay Thaï and Kickboxing Coach
Christophe has always been passionate about martial arts and combat sports. He has been a practicing martial artist from the young age of 6 years old competing in judo, kemp, kung fun, boxing, kickboxing and of course muay thaï. It is only in the last 10 years or so that he has worked on perfecting the art of Muay Thaï also known as Thaï Boxing. He has had the opportunity to train in Thaliand at Lanna boxing, just north of Chiang Mai. There he also competed in several kickboxing as well as Muay Thaï galas.
Christophe's classes at Hard Knox Gym are adapted to all levels of athletes. The classes aim to develop physical strength and basic beginner techniques such as round kick, fighting stance, when to strike and how to best use your fists, elbows and knees. Whether it be for physical fitness, or a more intense training, as long as you give 100% effort, Christophe will be sure to take care of the rest.
Christophe teaches Muay Thaï on Monday and Friday evenings at 7:00pm.
He teaches kickboxing on Tuesday and Thursday evenings at 7:45pm.
Christophe is also available for private or small group training sessions.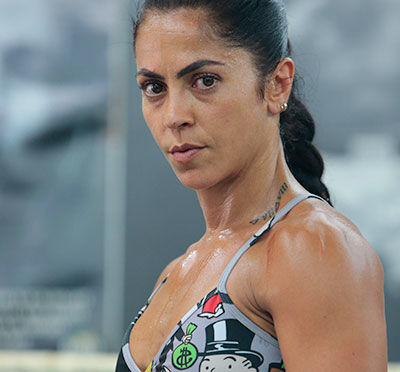 Jessie B.Hamron
2017 Musclemania Canada Bikini Pro Champion and a Hard Core trainer
Jessie B brings her 9 years of training experience, specialized in functional and kettlebell training.
Her dedication and discipline have earned her first place in miss fitness Canada and 5th place in miss fitness America in 2017.
Jessie B is a no bullshit attitude type of trainer.
You want to loose weight, change your body, get stronger?
Jessie B designs workouts for people who want to push and be pushed to their limits.
Come push yourself to a Hard Core body!
Jessie B is available for private and small group training sesssions.